Getting started with your return-to-business plan involves a comprehensive understanding of your business and how it fits into the new legal landscape. The foundation of a successful plan contemplates the people involved (both your workforce and the leaders of your business functions from HR to communications), the place of work (including health and safety and continuing requirements around social distancing), and elements of business (such as stimulus, taxes, insurance and more). This checklist provides a roadmap to navigating those issues, with three overarching themes:
Past experience should inform future decisions. Tackling the shutdown and reacting to the pandemic was brand new for all of us, but it also gave us tools to prepare for the nation's reopening—leveraging lessons learned during the pandemic will position you for a smoother transition back to work.
Plan, plan, then plan again. Guidance is constantly changing (as are local, state, and national directives), so implement appropriate social distancing and health and safety measures now, but stay flexible, knowing that you will need to revisit and retweak your return to work plan many times over the coming days, weeks, and months.
This is a NEW normal. Return to business is not a return to normal—and may never be. How has the pandemic impacted your business goals, and what is the impact of that on who you want to return to work and when?
This planning checklist covers the following topics: 
Selecting Employees to Return to Work        
Finding Your Workplace's New Normal  
What Logistical Concerns Must Be Addressed Before Bringing Your People Back?
When an Employee says "No": Refusals to Return to Work and Requests to Continue Telework   
Benefits and Executive Compensation
Customers, Vendors, and Visitors            
Planning for Future Outbreaks  
Physical Space Coordination       
Social Distancing At Work            
Business Travel
Keeping Clean and Safe: OSHA and Beyond         
Covering Up: PPE             
What to Do When OSHA, the Police, or a Public Health Official Stops By
Economic Stimulus Loan and Forgiveness Programs         
Taxes, Including Credits and Deferrals    
Insurance Policies and Claims     
Contracts, Including Supply Chain and Vendor Commitments      
Credit and Liquidity        
Corporate Governance 
Workouts and Distressed Situations         
(Click to download below)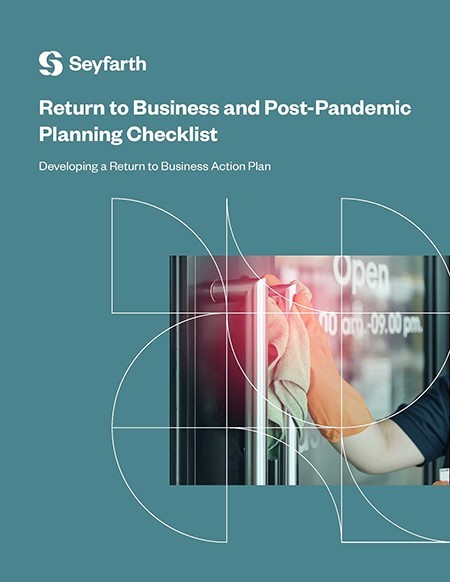 Next Steps: Beyond the Checklist 
Our COVID-19 Task Force is already helping clients build phased return-to-work plans by modeling various scenarios for how business might resume—from continued social distancing to a full engagement of their workforces in full operations. We recognize that your business is unique and that the legal landscape faces unprecedented complexity. As part of an engagement with a Seyfarth attorney, we can help you put together a fully customized return-to-business strategy, which can include the following critical elements. 
An assessment and audit of your pre-pandemic business status quo and areas of potential risk.
Assistance with goal setting and overall business strategy for the near, mid and long term.
Identification of legal landmines with strategies for minimizing risk.
Delivery of a fully customized treatise including sample policies, templates, checklists in multiple areas impacting businesses from labor & employment, to employee benefits, to real estate and beyond.
Access to Seyfarth's COVID-19 Tracker Repository which includes 50-state surveys on shelter-in-place orders, paid and sick leaves, executive orders and regularly changed and updated legislation.
Additionally, each customized return-to-business plan will provide our clients with samples of policies and templates for getting back to work.
Reach out to a Seyfarth attorney for more information on developing a customized return-to-business plan. 
The content of this article is intended to provide a general guide to the subject matter. Specialist advice should be sought about your specific circumstances.